SHG7 High Security Shredder
Shredders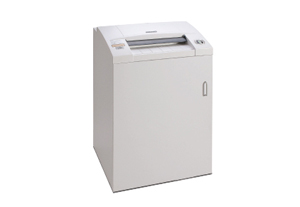 In today's busy office environment, sensitive documents can get thoughtlessly tossed in the trash, putting your business in real jeopardy. With its quiet operation, the SHG7 will reliably provide Level 6 shredding giving you the additional security you require.

The SHG7 combines High Security Level 6 security shredding (meets and exceeds NSA/CSS 02-01 and is DOD compliant - cross cut shred size of 1/32" x 11/64") with i-Control® technology providing the user with the ability to quickly and easily read the shredder status, reducing overheating and paper jams!

The SHG7 is also equipped with a Self Oiler and Integrated PIPS (Personnel Injury Protection Shield) to reduce the risk of catching unwanted items into the Shredding path.

Make it easy for employees to properly dispose of confidential records.
Specifications
Shred size (in): 1/32" x 11/64"
Shred size (mm): 8 mm x 4.5 mm
Amount of users: 10+ users
Shred type: Cross-cut
Security: Level 6 (Meets and Exceeds NSA/CSS 02-01 Specifications)
Capacity: Up to 11 sheets*
Speed: 45 ft. per minute
Throat size: 16"
Power supply: 120V—Requires a dedicated 20 amp service
Power consumption: (kW) 1.9
Power consumption: (Hp) 2.5
Noise level: 52 db (A)
Width (in): 26"
Depth (in): 22"
Height (in): 41 3/8"
Weight net (lb): 198 lbs.
Packaging type: Carton and Pallet
Packaging dimensions: 30" x 34.7" x 47.2"
Packaged weight (lbs): 274 lbs
Accessories included: 4 gallons of maintenance oil†, 100 PB4 bags, shred box
* 20-lb. bond—75g/m2 sheet. Capacities vary depending on quality, weight, grain of paper and sufficient power supply
† SH88000 Case of Oil—Packaging dimensions: 12-13/16" x 12-13/16" x 11-7/8", Packaging weight: 32 lbs.