SH59 Office Shredder
Shredders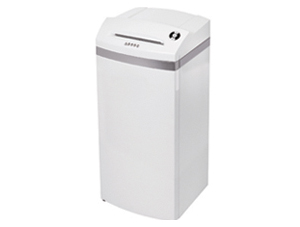 The SH59 offers the enhanced technology combined with commercial level quality and durability providing a powerful cross-cut shredding solution. This system offer two different sets of cutting blades and waste collection to separate digital media such as DVDs, CDs and Credit Cards from paper based materials to facilitate recycling efforts. In addition to its hardened steel blades, the SH59 harnesses Silentec® technology to provide ensure it's one of the quietest shredders on the market today!
Specifications
Shred Size - 5/32" x 1 13/32"
Shred Type - Cross-cut
Capacity - 18 sheets
Speed - 16 ft. per minute
Throat Size - 10 1/4"
Shred Container - 23.8 gallons
Power Supply - 110V
Power Consumption (kW) - 0.69
Power Consumption (Hp) - 0.92
Width (in) - 16.5"
Depth (in) - 15.4"
Height (in) - 39"
Weight (lb) - 84 lbs.