Postal Kiosk | mail&go™
Postal Kiosks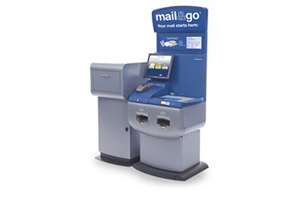 Just because mail and shipping may be less frequent these days, it shouldn't be less convenient. In an era when anytime, anywhere service is the norm, hospitals, retailers, universities and corporate offices must find creative ways to deliver exceptional experiences. The mail&go Postal Kiosk allows users to mail bills, ship packages and take care of business in moments, when and where it's more convenient.
The Pitney Bowes mail&go Postal Kiosk is intuitive and easy-to-use. Users can purchase postage, weigh letters and packages, compare rates and services, and even request more advanced United States Postal Service® (USPS®) services such as Delivery Confirmation™. Large, bright keys provide clear, step-by-step instructions in either English or Spanish, so anyone can handle shipping needs quickly and efficiently.
Benefits
Cost-effective. A single, fully-automated postal kiosk can serve thousands.
Convenience.Automated, self-service functionality and open anytime you are.
Postage savings. Anyone can print out exact postage based on weight and avoid over-stamping.
No staff required. Intuitive and simple to use.
Offer the convenience of on-site mailing services, including:
Purchase postage instantly. Choose individual metered labels or sheets of ten First-Class Mail

®

labels.
Weigh letters and packages. There's no need to guess or over-stamp.
Access all available rate classes. Print postage for First-Class

®

Mail, Standard Mail

®

, Parcel Post, Priority Mail

®

, Express Mail

®

and more.
Shop rates. Compare the cost of different USPS services.
Choose the right service. Determine when you need your letter or parcel to arrive, and what tracking or special services are important.
Select advanced USPS options. Request Delivery Confirmation

TM

, Signature Confirmation

TM

and other services based on your needs.
Mail domestically or internationally. Send First-Class

TM

letters anywhere in the world.
Keep track of expenses. Print out a receipt for accurate record keeping for shipping transaction.
Print on demand. No need to tie up large amount of cash for stamps on consignment -- print on demand sheets of postage.