Pitney Bowes Furniture Solutions
Furniture Solutions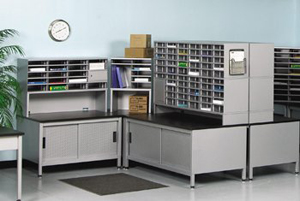 Maximize limited space—Improve workflow and productivity
Your highest traffic spaces are usually common work areas such as the mail center, mail pick-up/drop-off points, or network printer and copier stations. In this shared space, your people depend on an efficient workflow for operations and tasks that are core to your overall mission—such as internal mail distribution, preparation of customer communications, packaging and shipment processing.
Shared workspace and communications centers can be a challenge to organize for efficiency. Even though space is tight and resources are limited, your employees require a workspace that enables them to be responsive, organized and accurate with their work. You have to be ready for both routine and the unpredictable events of the day.
Pitney Bowes is here for you—with our full line of Furniture Solutions. We offer a full line-up of furniture suited for general or specific tasks such as mail distribution, equipment workflow, preparation of communications and packaging, and work-stations for your staff.
Modular Tables are a customer favorite because of their strength and durability, storage space and versatility. Among the Modular Tables are Storage Tables, Basic Tables, and Utility Tables.
Storage Tables have a shelf, sliding doors, a lock and key. These units are built with a 4 post leg construction with side and back panels, resulting in a 1500 lb capacity to hold modular accessories and heavier equipment.
A Basic Table is open underneath, providing increased storage space. Or it can serve as a task workstation because it is compatible with a chair. This 33" deep table is specially designed with an interlocking frame system with 1-1/2" tubular legs, 6" high side aprons and 3" high front and back aprons.
A 22" deep Utility Table is also available in a variety of lengths, built to enhance the workflow of the mail center and hold sort modules or smaller office equipment. The Utility Table has a capacity of 250 lbs, specially designed inter-locking frame system with 1.5" modular legs, 6" high side aprons and 3" high front and back aprons.
Many options are available for each of these tables including Risers, Sorters, and Accessories. The Sorter provides space for mail and communications distribution, while the Riser is an option used to lift the sort module off the table surface to leave space for machines, work space, packaging materials, etc.
Ship Stations will help you build an efficient workflow for wrapping parcels and organizing packing materials. These ergonomic solutions allow packing materials and supplies to be positioned within easy reach of the worker, while maximizing the floor space for this process. Overall, a Ship Station solution is perfect for the shipping or mail area. These solutions create an efficient and productive environment, and provide the employee a safe and ergonomic station for this demanding task.
Shared workspace and communications centers can be the pinnacle of efficiency and productivity or a pain-point for your organization. Create an environment for success with solutions such as Lift Tables, Free-Standing Sort Modules, and other specialty items that support mail sorting, document storage, and work areas for specialized tasks. These solutions go beyond the mail center, and enable your team to be responsive, organized and accurate with their work.
Effective managers are always reviewing the needs of their teams, the equipment they use, and the workflow to maintain a safe and productive environment.


A detailed assessment and design plan is advised anytime you:
Acquire new, specialized equipment
Upgrade an existing space
Move offices and equipment into a new space
Pitney Bowes can support your needs with design services such as layout planning and 3D drawings. With our Furniture Solutions, we can work with your management teams, facilities managers, office designer and architects to create the most efficient and productive workflow possible.