LobbyGuard®
Visitor Tracking Systems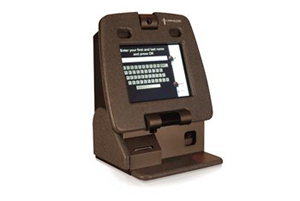 LobbyGuard® is a self-service visitor management system designed to help public and private institutions maintain control and more effectively manage visitor activity.
Benefits
Parent, Student, Faculty, and Visitor Registration
Makes signing in and out as simple as scanning a driver's license or waving a bar-coded key tag across the scanner
Instant Background Checks
All visitors can be instantly checked against LobbyGuard®'s compilation of sex offender databases. If a match is made, notification can be sent to appropriate personnel.
Detailed Activity Reporting
Records all activity in a secure database for future reference and reporting. Eliminates paper logbooks!
Volunteer Registration
Keeps track of your volunteer hours and in/out times.
Touchscreen Kiosk
The user friendly Touchscreen Kiosk features step-by-step visual instructions and audio cues to walk the visitor through the sign-in process.
LobbyGuard® delivers flexibility in visitor management that is ideal for schools, hospitals, corporations and municipal facilities that want to keep better track of the flow of visitors in and out of their buildings. Facilities can quickly, efficiently, and effectively process visitors with the LobbyGuard® system.
LobbyGuard® capabilities
Captures real-time photograph
Scans driver's license
Performs background check against LobbyGuard®'s national compilation of state sex offender databases
Prints visitor badge with time stamp
Stores visitor information in a secure database
Easy 3 Step Process
1. Sign In: Visitors sign in through an easy-to-use touchscreen surface with visual and audio cues.
2. Print Badge: Information collected prints on a highly visible visitor badge.
3. Sign Out: Simply wave the visitor badge or bar-coded key tag in front of a kiosk's built in scanner to free up security and reception staff, helping them better monitor activity in lobby area.