DM400™ Digital Mailing System
Mailing Systems - Mid Volume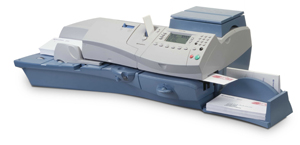 The DM400™ is simple to understand and user-friendly, with dedicated, labeled keys for faster processing. The system automatically feeds up to a 3" stack of mail, seals and applies postage at up to 120 pieces per minute. You can process mail of various sizes, from postcards to 11" x 13" envelopes using the automatic tape dispenser for processing of larger packages. The DM400™ gives your mail a professional look with crisp, clear inkjet printing technology.
This system also provides the ability to track and report postage expenses for 50 accounts with expandability up to 300 accounts. Postage accounting data can be printed or exported to a PC. The DM400™ can protect your postage with Password Protection, as well as provide a low postage warning that ensures you never run out of postage unexpectedly. Postage refills are available 24 hours a day with our Postage by Phone™ system. The Auto Dating feature sets the current date so you don't have to, or get a jump start on tomorrow's mail by date advancing. The removable brush-and-wick sealing system ensures tip-to-tip sealing to protect the contents of your mail. Optional weighing platforms interface to the DM400™ Mailing System to ensure the correct postage. This system can give you additional functionality with the date-and time stamp capability for incoming mail.
The DM400™ Mailing System comes with IntelliLink® technology, your digital gateway to USPS Confirmation Services and our exclusive "My Account" services. Track and confirm deliveries online on My Account, and receive email notifications when the packages are delivered.
Services that can be accessed through the IntelliLink
®

Control Center include:
USPS and Carrier Payment Solutions
USPS Rate Updates
System Software Updates
USPS Special Services:

Delivery Confirmation

-

Online processing and tracking for First Class parcels, Priority Mail® and Package Services.
Signature Confirmation- Provides the name and signature of recipient for First Class parcels, Priority Mail® and Package Services. This service is discounted whenprocessed through IntelliLink

®

.
Certified Mail

-

Process Certified Mail electronically right from your office and save a trip to the Post Office.
The DM400

TM

Mailing Systems' features and functionality make processing your mail faster and easier.
Compliant with USPS regulations including the latest in Indicia Technology, IBI - Information Based Indicia
An Auto Default can reset postage to the current First Class rate (39 cents 1 oz.), so there are no accidental overpayments
Handles mail from postcards to 11" x 13", up to 5/16" thick
Processes up to 95 pieces per minute standard. Upgrade to up to 120 pieces per minute to handle your busiest mail periods!
Get dual functionality with the Date & Time Stamp feature for incoming mail
Postage rating is done internally for fast and easy processing
Capture postal expenditures with the optional interface to a PC or Printer
Account tracking and reporting for up to 50 accounts standard; expandable to 300 accounts
Never run out of postage - refill postage over the phone - 24 hours a day
Program up to 10 common jobs, such as Priority Mail® or Express Mail®
Process multiple packages quickly and efficiently with the auto strip tapes dispenser