DM200™ Digital Mailing System
Mailing Systems - Small Volume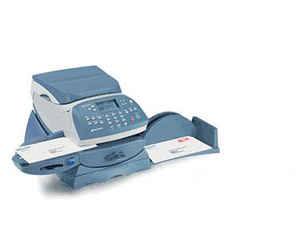 The Pitney Bowes DM200 is perfect for businesses that want to improve speed and efficiency with bulk transactional mail. The DM200 includes a semi-automatic letter feed and a high-speed printer to easily handle almost any job, be it small or large.

Save time preparing bulk mail
Capable of printing postage on 40 letters per minute, the DM200 dramatically improves your productivity with bulk mail. Just load the semi-automated letter feed and the DM200 lets you get on with other tasks while it prints the postage. The DM200 also saves you those time-consuming and expensive trips to the Post Office™. You can add postage to your meter any time of day or night, either online or through your phone line.
Reduce postage costs
Adding excess postage to mail and packages can increase your expenses by up to 20%. The Pitney Bowes DM200 automatically updates to the latest USPS® rates, and includes a scale to check each piece, so you'll always pay the minimum postage required.
Total flexibility
The DM200 allows you to apply postage to letters, flats and packages using multiple USPS classes and services. Simply feed mail directly into the meter or print a postage label that you can affix to packages.
Stay on top of mail and expenses
The Pitney Bowes DM200 can track postage expenses for up to 50 accounts, helping you better manage costs and recover a greater percentage of expenses. With built-in delivery confirmation services, you'll spend less time tracking down packages for customers.
The Pitney Bowes DM200 is the ideal solution for businesses that need help with everyday business mail and larger jobs. And with its compact design it integrates seamlessly into just about any office setup!
Why not try the DM200 for yourself at the special rate of $65 a month for 1 year?
Specifications
The powerful DM200 postage meter packs a lot of features into a compact design, making it a great addition to any small business office environment. The high-speed printer and built-in scale provide fast, accurate postage to let you apply postage to small batches or larger bulk mail with ease. Try it for yourself at a special rate of $65 a month for 1 year.*
Here are the key DM200 specifications, including dimensions, measurements and features:
Best for mail volumes of: 100 – 1000 pieces per month
Envelope printing speed: Up to 40 letters per minute
Envelope feed type : Semi-automatic feed
Media sizes: Minimum: 3" x 5", Maximum: 13" x 15"
Media thickness: Minimum: 0.007", Maximum: 3/8"
Flap depth: Minimum: 1", Maximum: 3"
Integrated weighing options: 10 lbs.
USPS and Carrier Rate Updates: USPS
Connectivity: Analog phone line, computer USB Interface
Dimensions: 18" L (Add 3.65" with optional moistener) x 16.25" D x 10.75" H
Weight: 17.5 lbs.
Electrical: 100-240 VAC, 50/60 Hz, 65-3A
Compare the full line of Pitney Bowes Small Business postage meters.
For more DM200 specifications, or assistance selecting the right postage meter for your business, please contact us.
Put the DM200 to work in your small business at a special rate of $65 a month for 1 year.*