DM125™ Postage Meter
Mailing Systems - Small Volume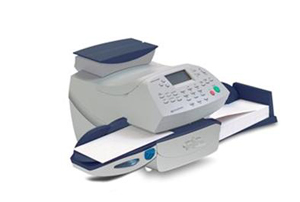 The DM125 Postage Meter supports all your mailing needs.
With a semi-automatic letter feed, built-in scale, and fast print speed, the DM125 Postage Meter is flexible enough for large volume mailings, yet perfect for the smaller ones. You can even track postage expenses for different accounts! Online Postage Saves Time
Spend less time preparing mail
The DM125's semi-automatic feeder can print postage at 35 letters per minute, saving time on larger jobs. Simply load your mail into the feeder and the DM125 does the rest, freeing your time for other tasks. You'll also spend less time refilling ink, with each cartridge capable of printing up to 3000 impressions.
Save money on postage expenses
With its built-in scale and automatic updates to the latest USPS rates, the DM125 ensures that you'll always pay the correct postage and that you'll never run out of postage. You can refill your postage meter online or through your phone line, 24 hours a day, 7 days a week.
Improve your open rates
Instantly catch the reader's eye by printing marketing and promotional messages or QR Codes on your envelopes with the DM125 Postage Meter's Inkjet printing capability. Customize each print job and save money on preprinted envelopes.
Manage costs and track packages
The Pitney Bowes DM125 helps you to stay on top of your mailing costs by tracking expenses for different customer accounts. You can also use delivery confirmation services to track individual mail and packages. Save up to 30% on Express Mail® and Priority Mail®.
If you need assistance with a specific feature of the DM125 or if you are having a problem, we offer many support resources to help, including reference guides, how-to articles, and video tutorials.
Specifications
The DM125 is a compact and convenient mailing system that fits well into any office, helping businesses handle larger volumes of everyday business mail. The DM125 specifications include a built-in scale and high-speed printer to help you process mail more efficiently and improve productivity.
DM125 specifications in full, including dimensions, key measurements and features:
Best for mail volumes of: 100 – 1000 pieces per month
Envelope printing speed: Up to 35 letters per minute
Envelope feed type: Semi-automatic feed
Media sizes: Minimum: 3" x 5", Maximum: 13" x 15"
Media thickness: Minimum: 0.007", Maximum: 3/8"
Flap depth: 3"
Integrated weighing options: 2 lbs. or 5 lbs.
International Rates: Yes
USPS and Carrier Rate Updates: USPS
Connectivity: Analog phone line, computer USB Interface
Dimensions: 13.6" L x 9.7" H
Weight: 15 lbs.
Electrical: 100-120 VAC, 50/60 Hz
Compare the full line of Pitney Bowes Small Business postage meters.
If you require more DM125 specifications or need help deciding on the best postage meter for your business, please contact us for more assistance.