DL50™ Letter Opener
Mail Openers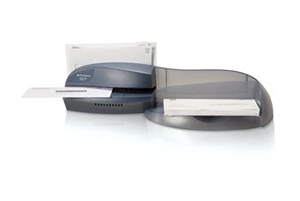 Simplify and speed the opening of your incoming mail. The DL50TM Letter Opener is great in an office environment, helping you easily open a wide range of envelopes. Its compact design lets you keep it right on your desktop or a central office location - all within arms reach for convenient operation.
Benefits
Opens up to 20 letters per minute
Easy to use, convenient solution
Opens all common envelope types
Compact, desktop size
Includes Stacker
How can the DL50 save me time?
As fast as you can feed the envelope, the DL50TM letter opener pulls each envelope through to the stacker. Opens about 20 letters per minute.

What types of envelopes does the DL50 open?
The DL50 will open all common envelope types from 3 X 5 inches to 10.24 X 12.99 inches with a thickness of 0.008 inches to 0.25 inches.

How does the DL50 work?
Each envelope simply has a sliver of paper removed from its top, helping to preserve its contents. The cutter that opens the envelope is safely housed within the device to protect you and your office staff. The envelope is cleanly opened, the letters stacked, and paper waste sent to an easy-to-empty tray.

How do I open and envelope?
Tap the envelope so that contents fall away from the edge of the envelope to be opened. IMPORTANT: Make sure that coins, staples, paper clips, or other objects that may damage the knives of the letter opener are tapped away from the edge of the envelope to be opened.
Place the envelope on the feed deck so the edge to be opened is against the feeder wall.
Slide the envelope to the right. The letter opener will open the envelope and deposit it in the stacker tray.
How do I empty the stacker tray?
Remove the stacker tray and empty the waste area frequently, as a large accumulation of paper strips can interfere with proper operation of the letter opener.
How do I clear a jam?
Unplug the power cord to stop the letter opener from running.
Remove the envelope by pulling back to the left.
Plug the power cord back in to resume processing mail.
What if something goes wrong with my DL50?
Should you need support for your DL50 letter opener, click here or call Service Support toll-free at 1-800-522-0020.
Please have your serial number (located on the back of the letter opener) and your customer account number (on your contract) ready when you call.