DL400™ High Speed Letter Opener
Mail Openers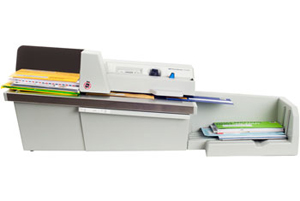 Start the day off right with a fast, safe and secure process to open your daily mail. The DL400™ High Speed Letter Opener is a powerful tool that saves precious time, eliminates a tedious task, and ensures that your receivables, donations, business reply mail and returned forms can be processed quickly when the day begins.
Benefits
Advanced milling technology – removes small chips from the envelope edge, preventing damage to the contents, and leaving a soft, feathered edge that prevents paper cuts.
Quick and Easy – open most sizes and types of envelopes including rigid overnight packs.
Clean Operation – waste is minimized and easy to dispose.
Specifications
Speed

Up to 400 envelopes per minute

Envelope Sizes and Types

Most sizes/types of paper and cardboard, up to .188" thick

Digital Counter

Resettable six digit LED Display

No Cut Selection

for envelope counting

Max Thickness

3/16" (.188")

Depth of Cut Range

Min .010", up to .070"

Depth of Cut Setting

Factory Set at .010" (Min) & .022" (Max). Field Adjustable in .002 incr.

Feeder Hopper Capacity

3"

Size

40" L x 15.5" D x 14" H

Weight

50 lbs. (28 kg)

Power

110 – 120 VAC, 60 Hz, 5 amps

Sound Output

Below 80 dB

Assembled in USA