DL100™ Letter Opener
Mail Openers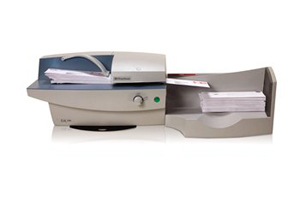 For organizations with moderate incoming mail volume, the DL100 vastly improves the speed of processing. It opens envelopes automatically, handling mail pieces of varying dimensions and thickness while ensuring the safety of the operator with its shielded cutting mechanism.
Benefits
Improves the processing of incoming mail
Processes up to 150 envelopes per minute
The cutting device is securely housed inside the system so you and your employees are safe and protected.
The paper waste generated from the envelope is neatly stored in an easily accessible waste area.