DA95f AddressRight® Addressing System
Envelope & Address Printers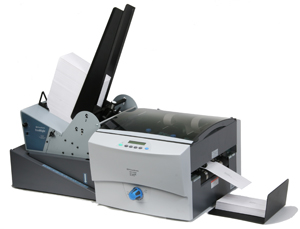 The DA95f fixed head printer is a high-tech powerhouse. A breeze to set up and easy to use, the printer provides the speed you need while delivering the optimum in performance and durability.
The optional Integrated Conveyor Stacker and High-Output Ink Dryer will pause when an error is detected, or if the printer runs out of material or when the stacker is full – giving your operator time to resolve a problem and get production up and running again to complete the job.Use the DA95f with one of our mail management software solutions, SmartMailer to help you cleanse your address list, ensure delivery to your target customer and take advantage of pre-sort discounts.
Benefits
Prints up to 30,000 mail pieces per-hour
Handles media up to 1/2" thick allowing for increased mail piece thickness and greater flexibility
Supports high speed USB communications and Ethernet allowing operators to share files and access information
Simplified side guide adjustment offers a more durable slide mechanism for easier handling of various media
Without being "married" to the machine, an operator can perform remote diagnostics and maintenance, be aware of a low ink warnings and "multi-task" while producing a mail run through the host PC
Light mode printing offers the option to use less ink and still produce USPS-compliant barcodes.
Specifications
| | |
| --- | --- |
| Speed | 30,000 per hour |
| Print Resolution | Regular Mode: 600 x 600, 300 x 600, 150 x 600 |
| Media Sizes | 3.5" x 5" to 13" x 15.5" |
| Media Weights | Up to 1/2" |
| Feeder Capability | 750 # 10 envelopes |
| Configuration | 12 Internal Downloadable Windows True Type |
| Size | 27H x 24W x 15 |
| Weight | 125 lbs |
| Electrical | 120 VAC 60 Hz |