DA75s AddressRight® Addressing System
Envelope & Address Printers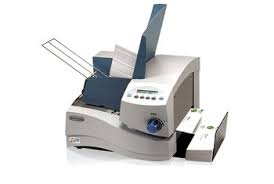 Creating compelling, personalized envelopes can help increase the probability of your mail being opened and read. Using fast inkjet technology, the DA75S can help your mail command the attention it needs to be successful. The printer connects easily to an existing network allowing for print job processing on any computer. Print almost anywhere on the envelope in black and white or color using shuttle head technology. Reap the benefits of handling multiple layouts without having to change the printer setup. Take advantage of the optional Light Mode printing capability to maintain proper resolution while using less ink.

Every Pitney Bowes AddressRight® Addressing System works in tandem with our mail management software as a total solution. SmartMailerTM 7 or AddressRight® Pro software can help you cleanse your address list, ensure delivery to your target customer and take advantage of pre-sort discounts.
Benefits
Addresses up to 14,000 #10 envelopes per-hour
Handles multiple media sizes
Shuttle Head technology allows for variable printing almost anywhere on the envelope in black and white or color
Envelope Design tool allows user to create, design and view envelope on screen
User decides how often printer performs automatic wiping of print head during print jobs
Batch Counter tracks total number of printed pieces during a job
Small footprint allows solution to fit in any office or mailroom environment
Specifications
Speed
14,000 per-hour (3 line address, no barcode, black ink)
Print Resolution
600x600, 300x600,150x600 B&W
600x300, 300x300, 250x300 Color
Media Sizes
3.5" x 5" to 15" x 15.5"
Media Weights
Up to 1/4"
Feeder Capability
750 # 10 envelopes
Configuration
12 Internal Downloadable Windows True Type
Size
13" VH x 9" W x 18" D
Weight
55 lbs
Electrical
120 VAC 60 Hz